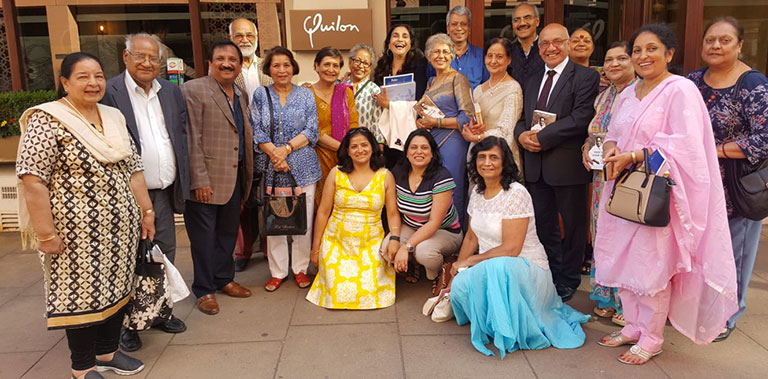 The third session of Kalam is with fearless writer Neelima Dalmia Adhar, a name she has earned after her first book 'Father Dearest' The Life and Times of R.K. Dalmia which end up in the bestseller list and where she has been labeled as daredevil 'family chronicler' who had exposed some fiercely guarded secrets.
Addressing the audience she spoke about her life growing up in a typical Marwari family with six siblings and being the fourth child of the sixth wife of R.K. Dalmia (her father). She spoke in length on her most recent book, The Secret Diary of Kasturba, which focuses on Kasturba Mohandas Gandhi, Gandhi's wife. Dalmia spoke about many aspects of Gandhi's personal life, she said "I have not demolished Gandhi; I have humanised Gandhi". She added "My endeavour was to portray Gandhi the husband and father, not Gandhi the Mahatma."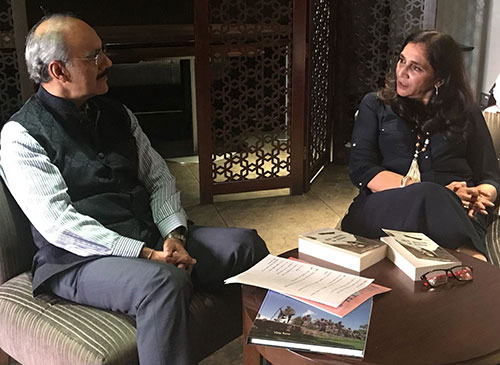 At the Kalam session held at the Quilon in St James's Park, Westminster, Neelima was in conversation with Vijay Rana, former Deputy Head of BBC Hindi Service, London.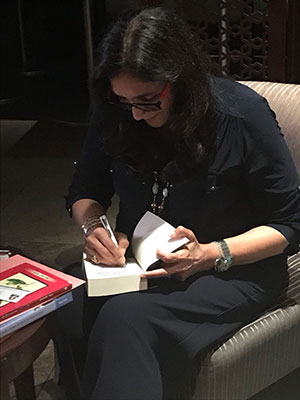 She also said that "Icons have a bi-polarity when it comes to the dedication to their mission vis-a-vis their role as a husband and father. The Mahatma suffered from this as did my father," she said drawing parallels between the two. A passionate 'people-watcher', she is drawn to oddities and thrives on writing about personalities and human behavior, from the quirky to the mysterious, to the bizarre, a subject that she does chillingly close to the bone.
The event was attended by Virendra Sharma MP, and number of writers, poets, journalists and dignitaries from the UK including writer Divya Mathur, journalist Shikha Varshney, Mira Kaushik OBE, Aruna Ajitasaria MBE, Councillor Zakia Zubairi, Usha Raje, Shanno Agarwal, Kadambari Mehra and Professor Shyam Manohar Pandey.